Tips 2012

This tip comes from a paraprofessional in New Hampshire. I never heard her name, but am very grateful for her idea!

Calendars make great books for creating books for or with students with disabilities. They capture student interest and provide high quality graphics without using up expensive colored ink! The mini-photos on the backs of many calendars also make great and quick communication displays.
---
---
Adapted Reading Log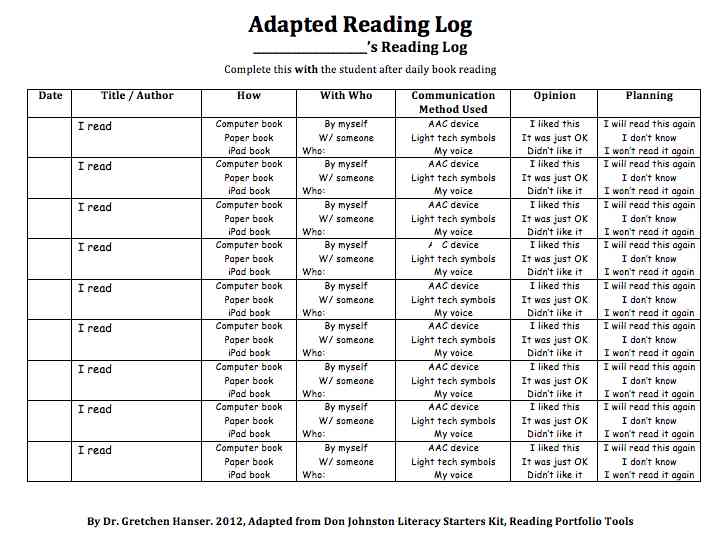 ---
---

Literacy Experiences Summary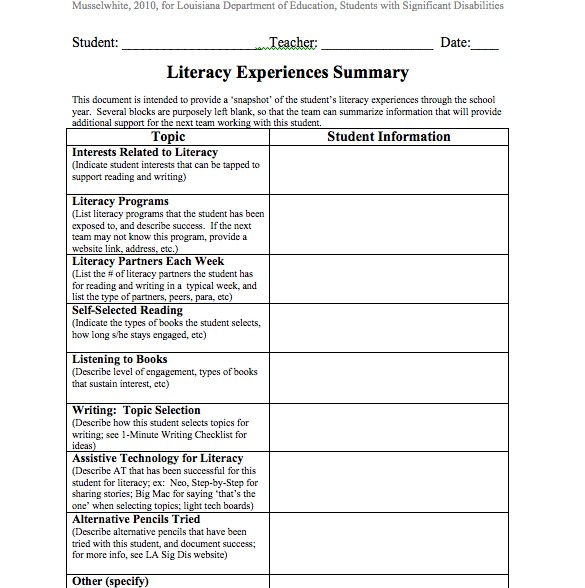 This chart was developed for the Louisiana Department of Education, Students with Disabilities.

The chart provides a quick summary of literacy experiences and opportunities for students with significant disabilities. It should be put in a student's Literacy Folder to support a smooth transition from year to year.
http://sda.doe.louisiana.gov/Lists/Monthly%20Efforts%20Calendar/DispForm.aspx?ID=3
---
---



Re-Writing Stories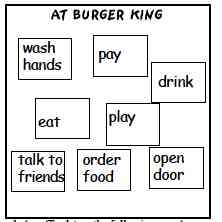 We have all re-written highly predictable stories to support student learning (think, 'Brown Bear'!). Re-writing stories is a great example of 'repetition with variation', as students use old forms (e.g., the rhythm of the original story) to support the new function (i.e., a story about going to Burger King).

This tip shares ideas for supporting students in using strategies such as storyboarding and use of light tech communication sets to scaffold learning.
---
---

Snoopi – Antidis Tips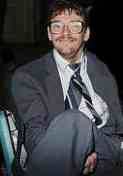 Antidis . . . Okay, not gonna give it away!

This is a 'guest tip' from Snoopi Botten. Snoopi has used an AAC device for decades, and is a premier songwriter, translator of songs for use on AAC devices, and an excellent performer. If you went to ISAAC 2012, you saw Snoopi do several duets with Peter Yarrow of Peter, Paul, and Mary.

The tip shares Snoopi's story, and provides tips for people who use AAC and for people who live and work with them!

---
---

Make A Real Choice
---
---

Literacy Motivation Profile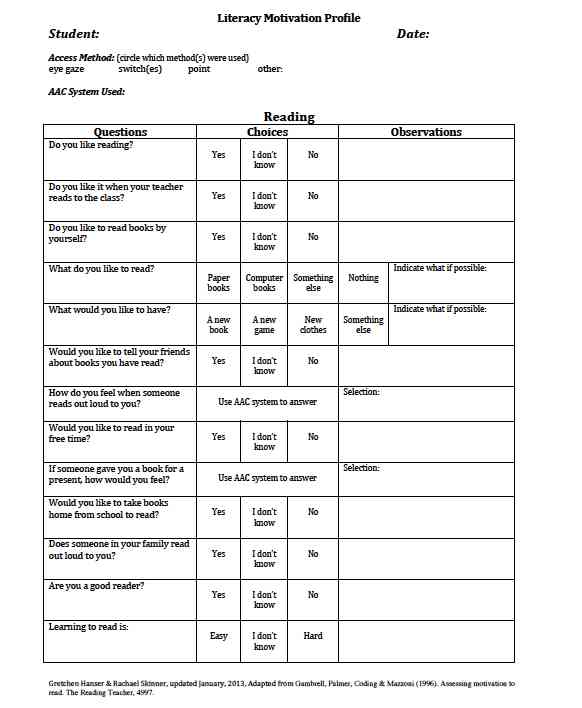 This chart was developed by Gretchen Hanser and and Rachel Skinner, adapted from a motivation to read profile by Gambrell, Palmer, Coding, and Mazzoni.

The Profile is mostly multiple choice (yes / no / I don't know), with students using eye gaze, touching, or an AAC device to respond. Information can be summed up, summarized, and compared across time.
---
---

Smart Charts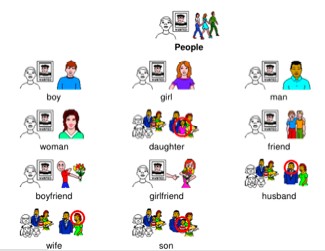 Smart Charts, a.k.a. Cheat Sheets can help people who use AAC in providing visual supports for where to find language on the communication device. However, they are equally important for communication partners, offering a chance to scaffold partner modeling of a communication device.

This tip provides samples and resources for creating and using Smart Charts.


---
---

Tic Tac Talk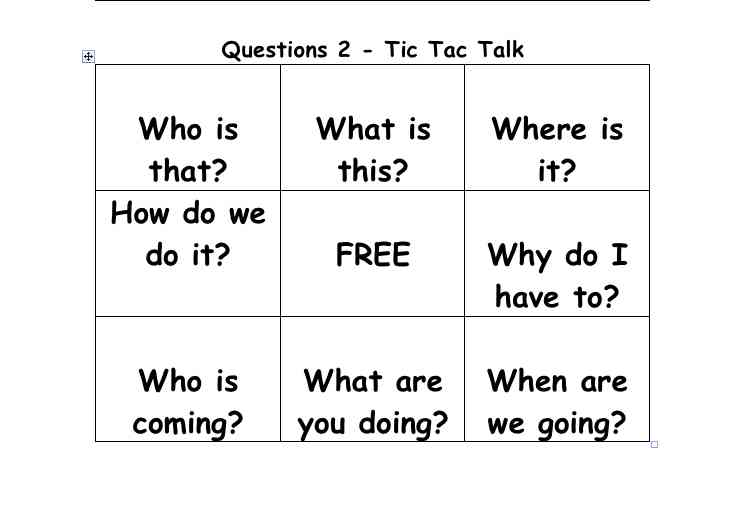 ---
---
---
---
Our little idea guy marks the tip attachments. They are posted in pdf format. On the few occasions where there was more than one document to attach, we have "zipped" the files.

PDF File Information
If you don't have Acrobat Reader on your computer, go to the following site:
http://get.adobe.com/reader/

Contact us if you need tips in another format.