Tips 2003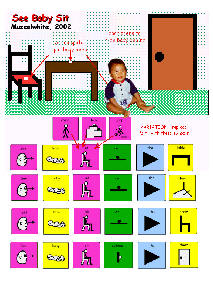 See Baby Sit Songboard
By: Caroline Musselwhite
Well it is official. We asked which songboard you would prefer to receive for free and the "See Baby Sit" board won. Thanks to all of you who took the time to e-mail your preferences!
Note: This is a large file and may take awhile to download.
January 2003
---
---


Jan Brett's Website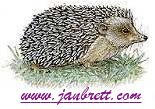 By: Julie Maro
For those of you teaching literacy skills to younger children - check out Jan Brett's website for FREE activities featuring Jan Brett's outstanding artwork. I just downloaded the pdf pages for her alphabet flashcards. You will find them in the Activities Pages under "Alphabet Flashcards". They are beautiful! Be sure to read the "Terms of Use" information.
February 2003
---
---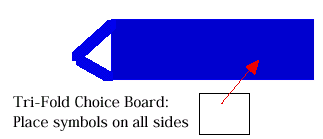 Tri-Fold Choice Board
By: Caroline Musselwhite
This month's tip is for the ingenious choice board Caroline frequently shows during her workshops. This three-sided board allows the facilitator to set up symbols in advance of an activity. The benefits to the user include the presentation of a relatively limited symbol set.
---
---

Dotted Lines in Worksheets
By: Nancy Hogan






This month's tip is from Nancy Hogan of the Collaborative Center for Assistive Technology, Northampton, MA. Nancy created this to show how to leave blank spots between words using IntelliTalk II. Thanks Nancy! We'd love to hear from anyone else with a great tip and/or handout!
---
---

Older Students Write for Younger Ones!



By: Caroline Musselwhite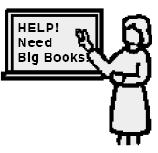 This tip is designed for students who are emergent writers older than age 10. It shows how to use their emerging skills as writers to author Big Books for younger students!
---
---


Velcro!
By: Caroline Musselwhite
Velcro! We all use Velcro every day. Here are some simple ideas, resources, and links to help you in you homes and classrooms. Enjoy!

June 2003
---
---

Talking PowerPoint Books

By: Gretchen Hanser, OTR


This month's tip comes from Gretchen Hanser, O.T. extraordinare! Since many classroom teachers have PowerPoint already installed on their computers, and the rest of us at least have access to PowerPoint Player, talking PowerPoint books are a great addition to our libraries. Enjoy!

July 2003

---
---

Hollywood & Hollywood High
This month's tip from Caroline and Gretchen is all about the multimedia script writing programs, 'Hollywood' and 'Hollywood High.' Download this file to find out:
- why you would want to use these programs with struggling writers and AAC users
- where to buy them
- goals for using them to support writing
- ideas for adapting them
Have fun!
August 2003

---
---

Turning AAC Devices into Electronic Pencils
Gretchen Hanser MS, OTR/L & Deanna Wagner MS/CCC-SLP have recently updated this handout describing how to turn high tech AAC devices into electronic pencils.
---
---

Out & About! AAC Users Community Group
By: Caroline Musselwhite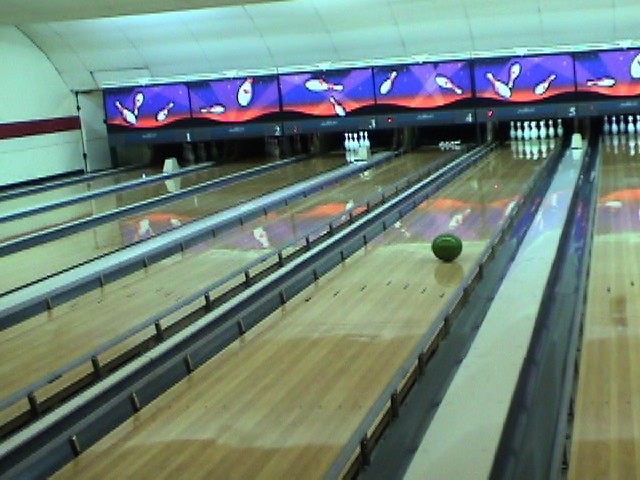 Out and About! AAC Users Community Group
Thinking about starting a group of AAC users and friends in your community? This month's tip tells you
Why
this is a great idea,
Who
might come,
What
activities to include, and
How
to scaffold success.
---
---

Phone Conversation Page for the Vanguard



By: Caroline Musselwhite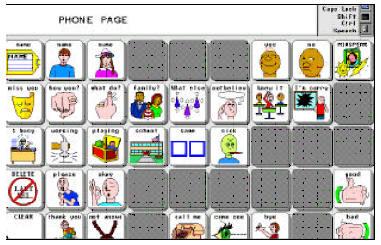 Are you working with a Vanguard user who would like to use his/her communication device to talk on the phone? If so, this month's tip page is for you!
---
---



Using MicroSoft Word More Fully
By: Scott Marfilius and Julie Maro

Mastering MicroSoft Word.pdf by Scott Marfilius
Using MS Word Features to Improve Student Writingby Julie Maro (Word Document)

Many of us on tight budgets may not be able to afford the latest and greatest new software items. These handouts both pertain to using MS Word - software which is already on the computers of many educators. See how features of this commonly used program can be used to help students write.
---
---
---
---
Our little idea guy marks the tip attachments. They are posted in pdf format. On the few occasions where there was more than one document to attach, we have "zipped" the files.
PDF File Information

Contact us if you need tips in another format.