Tips 1999
---
---
Styrofoam bakery plates & communication symbols
This month's tip comes from Joan Turnquist, SLP in the Owen, WI schools.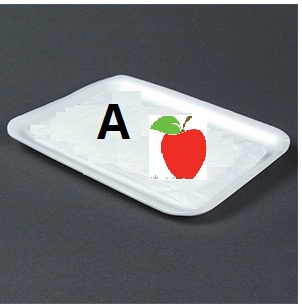 For individuals who have a difficult time grasping flat symbols, attach your communication pictures to a square of styrofoam like the type used for baked goods. Cut the styrofoam platter so that you include one side of the raised portion of the plate. This provides a raised lip for students to grasp. According to Joan, it made all the difference for one of her students who could not pick up a single dimensional symbol. Symbols can be attached using velcro, paper clips, or glue.
Additional Note: If using velcro, remember to follow the "velcro rule" of placing the soft velco on the surfaces where individuals will touch and the hook velcro on the backs of symbols. This consistency will pay off in being able to interchange symbols between activities when necessary without having a velcro mismatch!
Thanks Joan! If anyone else has tips to share, please send them on using our Contact Us link at the top of the page.
---
---

---
---

IntelliTools - manufacturer of the IntelliKeys, IntelliPics, Overlay Maker, and Click It - has a FREE activity exchange at their web site: www.intellitools.com. Activities are available for both Mac and Windows. The database of activities is searchable by age range, product and curricular area. There are a wealth of ideas awaiting you!
Creating age-appropriate cause and effect type activities for older students is often a challenge. These instructions assume you have a working knowledge of IntelliPics. If you do not, check out the excellent training materials on the IntelliPics web site.
To create a switch accessible music activity:
- choose a tape or CD which is popular with the individual's same age peers
- decide what portion of the lyrics will be assigned to each IntelliPics frame
- choose a picture from the IntelliPics library, import from BoardMaker or use a screen shot as described in last month's tip of the month
- when it comes time to record a message, place your tape or CD player near the microphone of your computer. Have the music cued to the portion you wish to record. Press "record" under the digitized speech menu of IntelliPics while you press "play" on your tape or CD player. Press "stop" as soon as the portion of the lyrics you want is finished.
- Under the "Advanced" (Macintosh) or "Extras" (Windows) option of your IntelliPics program, use the caption feature to type in the lyrics corresponding to what you just recorded.
Note: This will also work with music written for younger age groups. Be conscious of copyright issues.
---
---

Rain Gutters & AAC
When it came time to remodel her room, my friend and colleague Lori Tufte had the maintenance person at her school install rain gutters below all the chalkboards. This made the perfect place to store books so they were within easy reach of small hands and arms. This was a great way to make emergent literacy materials accessible to her students!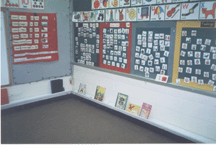 August 1999
---
---

---
---

---
---

---
---

---
---
---
Our little idea guy marks the tip attachments. They are posted in pdf format. On the few occasions where there was more than one document to attach, we have "zipped" the files.

PDF File Information
If you don't have Acrobat Reader on your computer, go to the following site:
http://get.adobe.com/reader/

Contact us if you need tips in another format.